champions
This page is a collage of Champion stories about the teams and coaches and players I have worked with since 2006…news stories, photos, videos and awards that depict the proven value of top athletes adding mental and emotional fitness training to their routines of preparation.
Remember, Champions do willing what others won't do at all. And in this case, Champions consistently produce top performances because they have learned how to compete in a relaxed body, calm mind state from start to finish under pressure when it matters most.
I created this page, not to be about me, rather to highlight what the athletes I have worked with can consistently accomplish when they practice the mental-and-emotional fitness system I am teaching.
And you can too!
My recent Gazette-Times (local newspaper) article link
https://www.gazettetimes.com/sports/community/local-sports-counselor-hopes-to-help-students-through-struggles-during-coronavirus-pandemic/article_0bd43fd5-8990-5275-835e-c69d1dfa52b9.html
video link noted in the news article:
intro excerpt in description:
"Just try it," top student athlete Sebbie says (on the video) as he mentally/emotionally self-manages the loss of his Senior year… his track season and Graduation ceremonies, as so many other young people have. This is something you can actually do, as athletes have said to me, "I am tired of fighting my head and body to stay calm…
https://www.youtube.com/watch?v=-tT4h22EiQA
Sem Verbeek, Professional Tennis Player
Tournament Championships in 2020, 2019 and 2018
While other systems or training methods, like certain diets, can produce short-term results, Dr. Warburton's system is remarkable because it gives you tools for the rest of your life. My gratefulness to him is everlasting…
It is difficult to truly encapture the impact Mr. Warburton's system has made on not only my game but my life in general. The two most impactful aspects of his system are its exposing nature and its consistency. 
The clarity with which Dr. Warburton's system exposes individual truths and unearths fears was quite startling at first. It immediately got to the core of the challenges I had with the mental and emotional fitnesses of my game, some of those seemingly buried in layers of inability to deal with them. Right away, after implementing the exercises and methods used by Dr. Warburton, those challenges started feeling less daunting, and a sense of control flowed into my overall personality; it was life-changing, and that felt so special. 
While other systems or training methods, like certain diets, can produce short-term results, Dr. Warburton's system is remarkable because it gives you tools for the rest of your life. My gratefulness to him is everlasting because he has given me the opportunity to, not only, be more accurately aware of how I feel, but also to master my ability to perform while experiencing those feelings. 
While before my emotional and mental states on a tennis court were mostly random, Dr. Warburton has shed light on how to be able to seek out optimal performance consistently. He has given me a sense of security and groundedness that nothing else has ever given me, so a heartfelt thank you is in place.  Sem Verbeek
https://www.atptour.com/en/news/challenger-verbeek-stockton-2016
Southern Oregon University Softball Team
Raiders take down Stars to win 1st national championship
https://souraiders.com/news/2019/5/29/softball-raiders-take-down-stars-to-win-first-national-championship.aspx
Pistole tabbed NAIA Coach of the Year
6/19/2019 2:34:00 PM
https://souraiders.com/news/2019/6/19/softball-pistole-tabbed-naia-coach-of-the-year.aspx
Arizona State University Women's Basketball Team
ASU Sweet Sixteen Bound …moving on in the Women's NCAA Basketball Tournamentweet Sixteen https://thesundevils.com/news/2019/3/24/sweet-sixteen-bound-sundevilwbb-wins-at-miami-57-55.aspx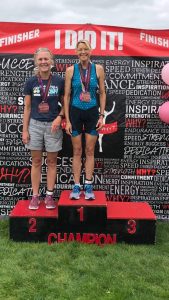 Kelli Steel …. Sprint Triathlon Champion
Kelli Steele qualified for the 2020 National Sprint Triathlon Championship
Kelli has qualified for the National Sprint Triathlon in 2020
Following are a few text messages from Kelli as she continues to win…
Oh Greg, I am honestly so humbled by your kindness, kind words and friendship. I don't think you even begin to realize how much you have helped my life…as a person, a parent, and athlete and a friend. I whole heartedly believe in the power of tapping, energy, brain gym warm ups, but none of this would have been possible had it not been for you.  Thank you for opening your heart and mind to reach out and help me. You gave me guidance and opportunity for growth in all areas of my life. I am truly grateful beyond words and honestly very honored to be part of your video as well. Life is about choices, but those I have made with your guidance and gifted me results way beyond my asking…at the forefront is definitely "acceptance of myself…and calming techniques as well"
Was having some knee issues before my run today. Sat in m y car and did some tapping (focused on my knees) before I started out.  Knee felt great…ran 81/2 miles with no pain…totally resets me.
The tapping and self-talk you have taught me is beyond words so valuable to myself as both an person and an athlete.
I am in Redmond, Washington doing a fun run…The Wonder Woman run…2000 runners dressed like super hero…Wonder Woman. I bring your book with me every where I go and will do my tapping and brain gym before the race
From start to finish totally…no anxiety, no knee or shoulder pain, pure performance and drive to do my very best and LOVED EVERY SECOND OF IT
My second 'open water' triathlon…I have actually loved both open waters and swam fearless, thanks to you.
We swam ½ mile in the Columbia river, bike ride over 12 miles and 3.1 run.  I won my age group (23 women in my age group). I got  5th overall for my run time out of 253 people…so super happy with that.  My bike was a PR as well. Before the race I tapped and tapped and tapped and tapped and tapped. You have no idea how much you have helped me; you have been life changing in so many different areas of my life. I truly cannot thank you enough for all you have don't to support and help me Greg. I am so grateful.
3rd place finisher didn't show up for photo
I won a big CHAMPION medal and am SOOOO HAPPY.
OSU Beaver Baseball
https://www.youtube.com/watch?v=LYxiq2WN54E    3-minute video link for "three dogpiles"
I have had the pleasure of not only working with Greg but also building a friendship over the many years he has worked with players here at Oregon State University (OSU). Greg brings a mental and emotional approach to teaching that has had a huge impact on several players, how they handle pressure in the game and in Life. I have always appreciated his confidence that he will bring out a positive mind with a competitive spirit. Greg also knows and understands every player is unique and finds the best method to reach that individual. I thank him for all he has done for me and many players in our program over many years.  
Pat Casey
Head Coach of the Oregon State University Baseball Team…1994-2018 (Retired)
2006, 2007 & 2018 National Champions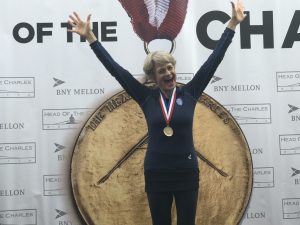 Catherine Widgery
National and World Champion
"My thoughts as much as anything were sometimes defeating me, or sabotaging me during a race… Greg helped me to get through some deep emotional issues that I had not faced, which was self-doubt, and a lack of self-love… What you discover is that there are things happening in your life that are below the radar. Now nothing can phase me!"
CATHERINE WIDGERY
WORLD-CHAMPION ROWER
Bill Flynn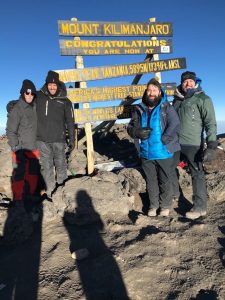 Bill Flynn, age 74, summited Mt. Kilimanjaro on February 5, 2018. Our guide said I was the second oldest person he had guided to the summit.
Hello, Greg,
This has been a long time in coming, and I apologize.
As you will recall, about 2 ½ years ago, I asked for your advice regarding my upcoming trip to climb Mount Kilimanjaro with my son and two of his buddies.
I was feeling a good deal of uncertainty as the departure date approached.  We had talked about your stress reducing strategy previously, and I thought you might be able to provide some additional insight into how tapping could be used in my situation.  I knew I was in good shape physically, but was concerned about other factors that I might encounter as I learned more about the climb.   
As it turns out, once the ascent began, the most stressful aspect as the air became thinner was the looming possibility of suffering altitude sickness and being taken down the mountain without having reached the summit.  Using the tapping technique helped a great deal to alleviate that stress, as well as aid in winding down once each day's climb was done.
At the risk of being long winded, I offer the preceding as a prelude to expressing my appreciation for the time you spent with me and for sharing your strategies for dealing with the challenge ahead.  Not only did it help get me to the summit of Mt. K, I still use tapping simply to relax during my daily routine.
Thanks again and best always,
Bill
017 Oregon State Baseball Season in Review
PAC-12 Champions
https://osubeavers.com/news/2017/7/7/baseball-2017-season-in-review.aspx
The Season
Oregon State ended the 2017 season with a school-record 56 victories, surpassing the 2013 club's 52. The Beavers also posted a .903 winning percentage, which is tied for the fourth-best mark in NCAA Division I history.
Pac-12 Champions
Oregon State won the 2017 Pac-12 Championship, and in a big way. The Beavers set a conference record with 27 victories in league play, surpassing 1981 Arizona State's record of 26. Oregon State won all 10 of its conference series, sweeping seven. Entering 2018, the Beavers will have won 12 consecutive Pac-12 series dating back to 2016.
To Omaha
Oregon State advanced to its sixth College World Series, going 2-2. The Beavers have now played in five College World Series under head coach Pat Casey, all since 2005. Nick Madrigal was named to the College World Series All-Tournament Team.
Postseason History
Oregon State completed its 17th visit to the postseason since the program's first season in 1907. The Beavers hold a 58-35 (.624) postseason record with Casey claiming 53 of those victories. That is 91.4 percent of the team's all-time postseason wins.
Hogan Arey
2017  Hogan Arey
https://ulmwarhawks.com/news/2017/2/21/211493442.aspx
https://ulmwarhawks.com/news/2017/6/22/211634394.aspx
After leading his team with a final round 69…Hogan texted me:
Hi Greg, Thank you…It was a special moment. In fact when I perform in that sense it almost seems as if I am out of my body and completely immersed in the moment.  What I am imagning is exactly what happens and the control I experience is to the point I can not explain or teach.  I felt and used the energy of the moment. In order to capitalize on the great opportunity I gave myself I did not let any nervous energy enter my state by tapping and continuing to repeat to myself "I will make this putt." I have become aware of I always perform my best in the most important moment. When my coach came to me with 4 holes to play and told me he would follow me in I knew I was going to be the difference.
"I began working with Greg when I was 21, the summer of 2016, when I felt I had reached a plateau in my development in the game of golf. I had recently mastered the skill set of golf and was having success in tournament play, but would still find myself searching for something to carry me through the 12 hour long competition days collegiate golf tested.
With Greg and his tapping techniques, along with breathing exercises, I was able to enter and stay in a zone of concentration during this extended period of time. I also learned to control my energies during heightened moments, allowing me to focus and control my actions much easier.
Greg not only helped me achieve peak performance, he helped me develop mentally and emotionally during an important period of my life. Helping me gain characteristics and attributes that will carry me forward in the journey of Life.
I thank Greg for the awareness he has brought me."
– Hogan Arey
The article about my decade of work printed in The Energy Field
(pp.17 – 21)
The Energy Field | www.energypsych.org 17
THIS ISSUE
EFT, Baseball, and Hitting the "Zone"
Click HERE to download the article.
By Sarah Murphy, M.A.
The Oregon State University Beavers baseball team had a record-breaking run in 2017. They finished the regular season with the best record in the history of the program at 49-4, and ended the postseason at 56-6. The team set a PAC- 12 record, with 27 conference wins, and had a 23-game winning streak. Although they came up short in the Collegiate World Series (CWS), going 2-2, they are tied for fourth-best winning percentage nationally in the CWS era (since 1950). Not surprisingly, they had some of the best pitching statistics in College Division I baseball history, with an earned run average (ERA) of 1.93. A record-breaking season is magical, a once-in-an-era experience. It necessitates excellent coaching, superb talent, and that special bond among teammates who form the band of brothers, setting personal ego and agenda aside for the greater good. This season, there may have been another secret ingredient. Emotional Freedom Techniques (EFT) may have played a part in that special mix. ACEP member, Greg Warburton
Oregon State Baseball wins back-to-back Pac-12 Conference Championships
OSU returned to the CWS in 2013
2013 video   Below:  Michael C. and Andrew M.  at 2013 World Series (Andrew Moore is seen tapping in the dugout at the 2013 College World Series (Oregon State U. true freshman), the season he tied for most wins in the nation (14 – 2). He subsequently played for Team USA)
https://www.youtube.com/watch?t=4&v=8yfinFFmSBE
"I chose to work with Greg when I was noticing a pattern in my athletic performance. For a stretch of my starts I would cruise through 5 innings then hit a wall and it began consuming my mind when I would reach that point in the game. Once I began working with Greg we were successfully able to train my self-talk and be honest with how I was feeling. We put a power statement in effect I said to myself every pitch and it definitely helped. Also, the tapping process was vital to me when I needed a tool to use in uncomfortable settings such as the Super Regionals or pitching in Omaha. It gave me a calming sensation, a chance to take good deep breaths and move past any injury or failure that's in the past. I undoubtedly feel like Greg's techniques were a big part of my success throughout the season."- Andrew Moore
Story line: In 2010, Oregon State Head Coach in wrestling contacted me to let me know he had invited 5 of his starting wrestlers to contact me on their own to work on their mental and emotional fitness. Only 1 wrestler, Chad Hanke, contacted me and we began working together. Chad was the only one of the five to win National Championships.
Chad Hanke wins two NCAA National Championships and goes on to wrestle for Team USA
Peak Performance with Mental Training and EFT tapping
Chad Hanke, 2-time National Wrestling Champion and wrestled for Team USA
During the 2010 wrestling season, Oregon State University wrestling coaches told me they had recommended that five of their starters contact me to focus on mental training. One wrestler, Chad Hanke, did contact me. I began work with Chad in 2010 focusing on his mental training, including teaching him my modified version of Emotional Freedom Techniques (EFT) and some Energy Psychology (EP) energy warm-up techniques.
From the beginning, Chad knew he was frustrated about his thinking and feeling habits related to his wrestling performance, adding that he didn't know what to do about it. He had never been taught how to apply the advice of stay positive and mentally tough. He immediately began with my suggested key starting place for mental-and-emotional self-management, practicing self-honest self-observation; a concrete and specific mental practice where he told himself the truth as he deliberately directed his mental focus onto his thoughts and feelings about his wrestling performance. Even though Chad had achieved a national ranking, he was aware that he was wearing himself out with his negative-thinking and self-criticism and doubted he belonged as a top ranked wrestler. He had keenly observed that the constant negativity was tiring him physically.
Since that time, Chad has followed one of the primary tenets for winning championships. He has sustained mental-training practices (including his use of EFT tapping); diligently practicing mental-and-emotional self-management skills, just as diligently as he practices his physical wrestling skills.
In 2011, Chad earned his first berth at the NCAA wrestling championships in mid-March. Then, in April, he went to the University Nationals tournament. He said, in winning 6 matches in a row to win the championship, that he defeated 5 All-American wrestlers and defeated last years' national champion. Chad will participate, in mid-June, in the upcoming tournament for selecting U.S.A. team members for the World Championships. To date, Chad is the only wrestler on the current Oregon State University team who has won a national championship.
During the fall, 2011, I talked with Chad about how he had handled the mental-and-emotional challenges while under the pressure of wrestling six of the nations' top wrestlers in his weight class and, ultimately, winning the championship. He said he used "tapping" throughout the tournament, adding that he uses some face points and torso points, even during his matches. He has figured out how to activate key acu-points that work for him for the few-second breaks during the actual wrestling match. He said that he figures that his fellow wrestlers probably wonder what he is doing when he is tapping points on his body, adding that o.k. because he is winning and is now "super confident." Chad placed second at the 2011 U.S. World Team Trials at 96 kg/211.5 lbs. He has moved up to heavyweight for the 2012 season.
I met again with Chad in early February, 2012 to review his success this season and find out about his start in international wrestling competition. During this meeting, while we were fine tuning his mental-training system, I heard him say about tournament wrestling, "I don't wrestle well my first match." We tapped for that and shifted his mental focus to the positive performance phrase, "Nobody beats me in my first match." Chad let me know that now his training regimen is balanced between a physical and mental training focus. He said he still "taps before matches" and during matches he always "taps face points." While wrestling for Team USA, the following article was written about Chad's silver-medal achievement:
On 02/15/2012, TheMat.com published an article written by Gary Abbott USA Wrestling with the headline: "Chad Hanke wins silver medal at Outstanding Ukranian Memorial."
KIEV, Ukraine – Chad Hanke (Dayton, Ore./NWRTC) won a silver medal at 120 kg/264.5 lbs. on the opening day of men's freestyle at the Outstanding Ukrainian Athletes and Coaches Memorial on Wednesday.
Hanke, who is on an Olympic redshirt year from Oregon State, went 3-1 in the tournament to win his first medal at a major Senior international competition.
From Oregon State University wrestling coaches, they wrote in mid-February, 2012:
NORTHWESTREGIONAL TRAINING CENTER
The club is busy competing in international competition around the world. Yesterday Chad Hanke earned a silver medal in the Ukraine, defeating multiple world class wrestlers, before dropping his match in the finals to the 2011 World Bronze Medalist. This was a great breakthrough for Chad as he prepares for a shot at this summer's United State Olympic Team. Hanke… has a shot at competing in London.
For the details on Chad and his performance and a statement about Chad made by the Team USA coach, click on the link below:
http://www.themat.com/section.php?section_id=3&page=showarticle&ArticleID=24706
Chad is redshirting (not officially participating with his OSU college team this season) because he will be, in April, 2012 working to make the U.S. Olympic team.
I think Chad's story illustrates that a complete and dependable mental-and-emotional-fitness game system looks like the following word formula:
Positive Advice + Cognitive Methods + Mind/Body Methods = Complete Mental Game System.
The point is that certain cognitive practices are necessary, e.g. self-honest self-observation, quality performance-evaluation questions, making the mental shift from the performance you don't want to the performance you DO want, and developing a positive performance phrase that sustains your vivid visual images of how you want to perform. However, I observe that adding EFT to these key mental-game practices is showing up as the difference maker for athletes being able to consistently perform their best under pressure. I think it is because EFT is a dependable mental-game tool that gives athletes something they can actually do to quickly relax their body and calm their mind—the ideal peak performance state! See Greg's website, www.gregwarburton.com, for more information on EFT in Sports.
Call Greg for fee quotes and explanations of his services at (541) 971-9810